From an article published on kaltengonline.com on 3 November 2021
Author : Royyan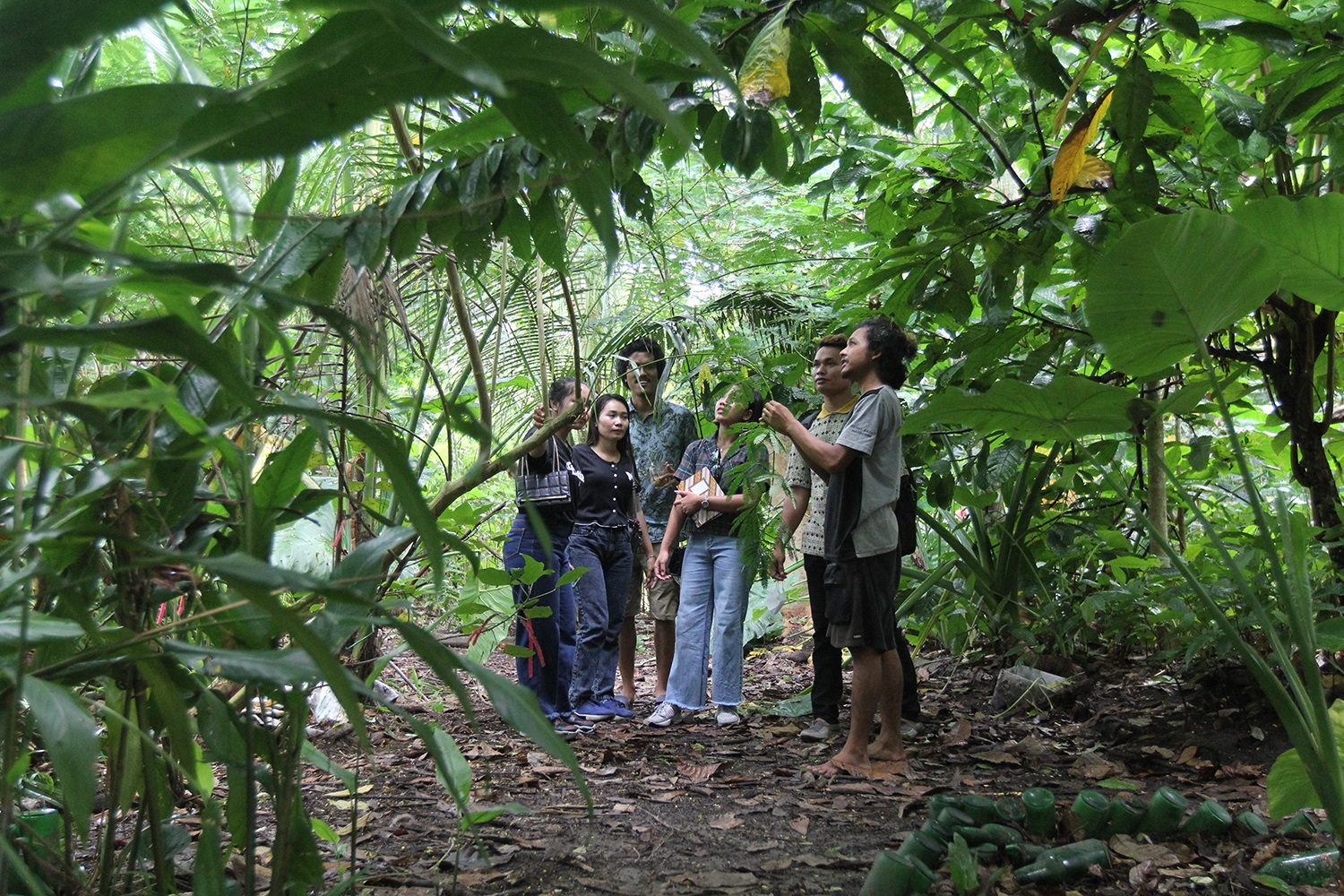 "This piece of land is so beautiful, fertile with an abundance of various plants."
A group of young people from Tahawa Village and Parahangan Village recently visited Tangkiling, more precisely, a place where the concept of a permaculture garden is displayed in Tangkiling. They were able to see the ecotourism system that they will implement in their village.
Apart from this location, the young people – who are members of the tourism awareness group – also visited the Kahui tourist location, which is well known for its riverbanks and natural beauty.
Yayasan Permakultur Kalimantan Program Coordinator Aliman said that the maximum land area needed to support food needs was 30×50 square meters. Various plants ranging from calliandra, gamal, and trees that fix nitrogen in the soil were in evidence. The leaves that fall are maximized for fertilizer and plants are maximized for food needs.
In this location, there are also cattle, duck and worm farms available for processing fertilizers. As much as possible, nothing is trash.
"We introduce permaculture to the younger generation so that it can be applied in their villages and so that they can support ecotourism," he said.
Permaculture itself is a type of agriculture which allows a sustainable, continuous and permanent way of life. Therefore, permaculture adheres to the principle of balance and sustainability.
The main principle is to be responsible for human existence, including maintaining the sustainability of animals and other living things.
Meanwhile, Head of the Pokdarwis in Parahangan Village, Ahmand Junaidi, said he was happy to see the beautiful nuances in Tangkiling, especially the permaculture gardens with produce that really meets food needs and that is sold through YPK's café 'Kedai Itah'. 
Likewise, the Kahui is a very attractive tourist location, which can actually contribute to the local economy. "Later we will apply it to ecotourism in Parahangan Village," he said.
In the same place, the Coordinator of the Community Development Borneo Nature Foundation (BNF) Indonesia, Yuliana Nona, said that the visit of young people from Parahangan Village and Tahwa Village was to provide an overview of sustainable agriculture and manage eco-friendly ecotourism, preserving local plants, spices, grains, medicines and vegetables.
"Because preserving nature and protecting the environment can protect local food. If you don't preserve nature, all of them can become extinct. Not to mention the challenges of climate change," he said.  BNF hopes that young people will stay in the village to develop their potential because the future is in the village.