The Kedai Itah eco-cafe has been established in the Sukamulya village next to the Permakultur Kalimantan (YPK) farm in Central Kalimantan, Indonesia. Launched in June 2020 as a social enterprise of YPK, the café introduces and showcases permaculture to the wider community through selling farm harvests, collaborating with local neighbours to sell their local village food/produce and running sustainable farming workshops.
Many local families sell their produce at the cafe. YPK encourages and works with these producers to sustainably package their products via its refill station that stocks basic kitchen food supplies. In this short period, the café has engaged over 90 local families creating an income of almost $2500 USD in total for this community. The following is a snapshot into the life of one seller and impact of this social enterprise on her situation:
Mbh Lastri (or Grandma Lastri) is 65 years old and is the main provider for her family. She is bringing up 2 teenage boys, one her youngest son and the other her grandson.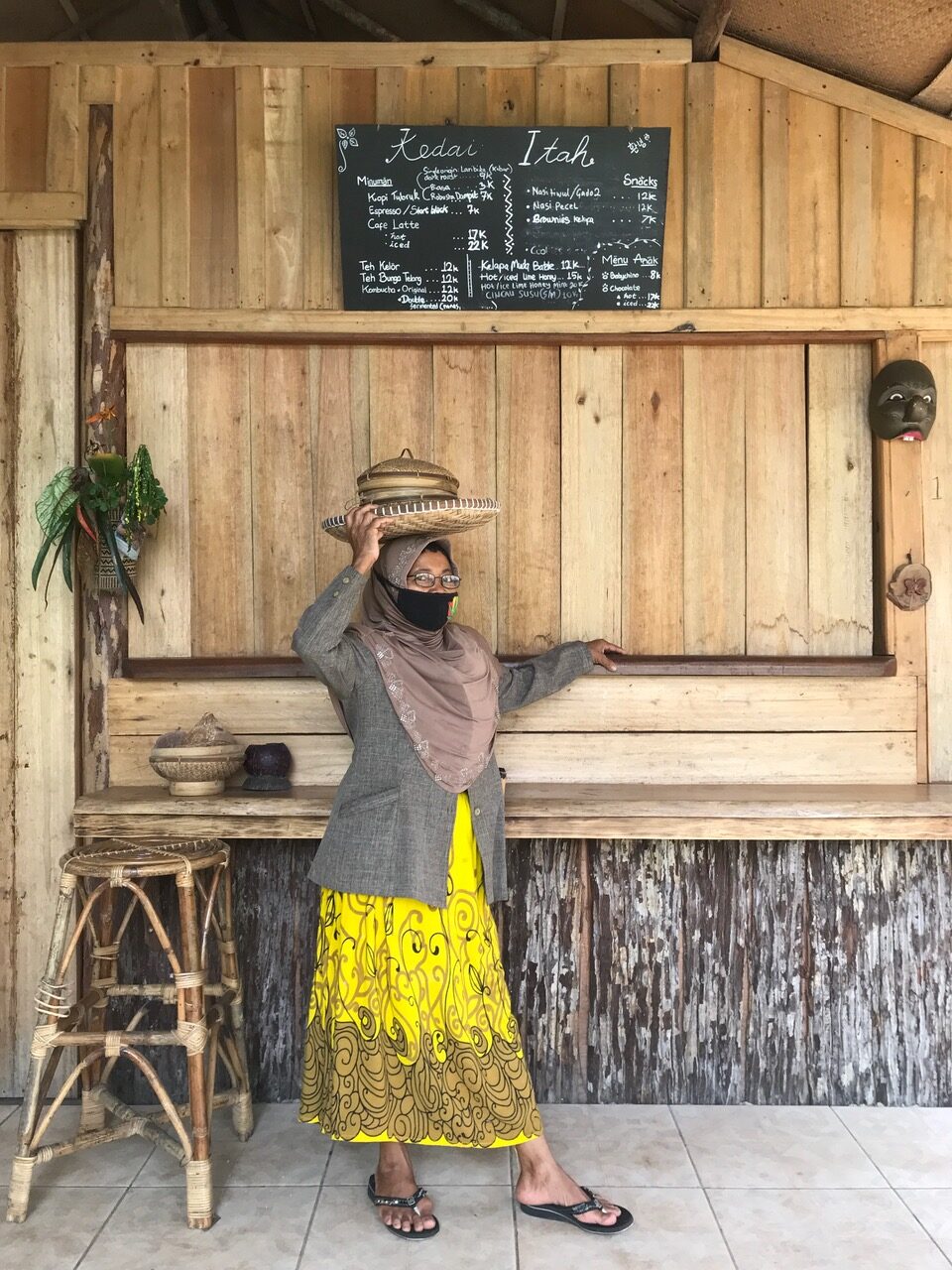 Grandma Lastri is an amazing matriarch of the community. She selflessly helps others in the village, from births, illness and death, helping to nurse sick neighbours, helping others giving birth, even helping to bath and bury neighbours without family who pass away (in Indonesia it is the family that prepare deceased body for burial). Her husband who used to mine granite at the nearby hill hasn't had any work for a year. He has had some freelance work collecting oil palm but its hard work for very little pay.
Grandma Lastri makes nasi tiwul, a traditional Javanese dish with rice made from compounded cassava. She combines this cassava rice with a coconut, fish & vegetable side dish.  It's a more stable and healthy carbohydrate and an alternative to white rice. She has made and sold this dish, walking around the Sukamulya village for the last 15 years.
The Covid pandemic has hit the local economy hard, with many losing work and slowing down the local economy.  Many people buy her food in the village, a very nutritious lunch, but due to the difficult economic times many buy on credit, sometimes paying her back a month later, sometimes not at all. Grandma Lastri says that she is 'ikhlas' (sincere), even though not everyone can pay she is grateful she can help feed those in need in the community.
The Kedai Itah cafe which opened in mid-2020 has created a new market for Grandma Lastri to sell her nasi tiwul dish, as the cafe attracts all sectors of the community including a lot of young professionals with money from the local city. She sells 30-60 dishes regularly a week through the Kedai Itah cafe and she is paid weekly through selling at the cafe.
Mbh Lastri says: "Alhumdulilah, I'm happy that I can be helped with my business. My food is nasi tiwul, thank you very much. Now my business is smooth."
In a country like Indonesia, it is social cohesion that provides a safety net and social security for the individuals struggling. Women like Grandma Lastri are crucial members of a village, helping others in need, bringing up children and being the main provider of a family. We are very grateful and touched that we can collaborate with such a wonderful matriarch of the local community and support her and her family, as well as the broader community.